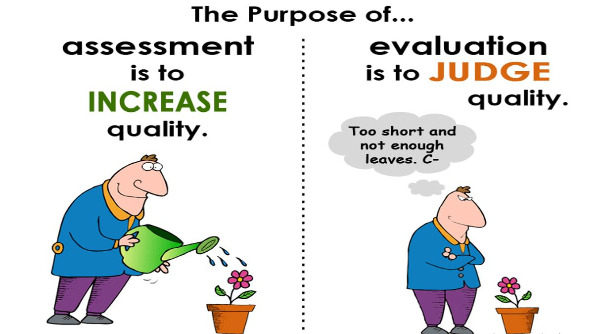 Evaluation or Assessment? This was a discussion we had in my undergrad education courses. We also had it in my graduate courses. I ran workshops for college faculty discussion the differences and the hows and whys of using both things. My wife taught a graduate course on program assessment and she will tell you that the two terms are very different.
If you were told that your course or your teaching was going to be assessed this semester, or if you were told that it would be evaluated, would you consider that to mean essentially the same thing?
They are not easy things to define succinctly. Assessment is the systematic process of documenting and using empirical data to measure knowledge, skills, attitudes, and beliefs. The assessment of students or teachers is meant to improve them, not judge, grade or evaluate them.
In education, student evaluation most often focuses on grades. For instructors, an evaluation can be used as a final review to gauge the quality of instruction. It is product-oriented. It is judgmental.
I know that in my time teaching in secondary school and my time teaching in higher education, the way teachers are trained and the ways teachers are evaluated are quite different. Evaluation always occurs. Assessment may not always occur or be seen as equally important.
This discussion also recently appeared online and the kinds of questions being asked are: Is the number of times you talk in class a fair measure of evaluation? If yes, how do we address quiet but observant students? Should you have students do self-assessments and should those be part of the instructor evaluations?
We have been having these discussions for a long time. They are good discussions. Keep at it.
The author does not allow comments to this entry