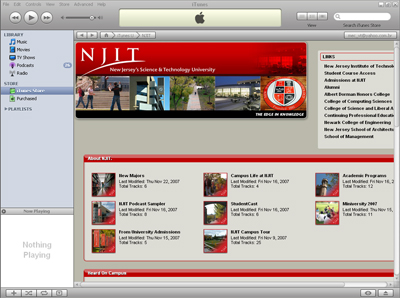 NJIT on iTunes U officially launched today.



Of course, we have been podcasting courses, seminars and programs about NJIT for over a year. This project resulted from the initial efforts of NJIT's department of Instructional Technology & Media Services to start faculty thinking about using podcasts for their courses in late 2005. Now, their initial success has led to our partnership with Apple Inc. to offer our content to a wider audience. NJIT on iTunes U uses Apple's iTunes-based content distribution tool created for educational institutions.

Eighteen faculty were podcasting their audio and video for the fall 2006 semester, and they are now in NJIT on iTunes U, and new programs are being added every week. It's the choice of each instructor to offer their materials to the general public or only for their registered students. Although we must be cognizant of copyright and intellectual property, NJIT on iTunes U is now part of our efforts to bring NJIT to the world.

When the NJIT community logs in using their university ID, they will see all public material (including selected courses, admissions podcasts and seminars such as the Technology & Society Forum) that is currently available, and they will see any of their courses that offer materials.

To access the podcasts, you will need the free iTunes software on your computer. The public that clicks on the "Guests" link will automatically be taken to the NJIT welcome page.

Get These Ideas Out of Your Mind!

People still ask us, "Why subscribe? Can't I just click on a link and play it on my computer?"

You can do that, however, the beauty of podcasting is that when you subscribe to a podcast using iTunes, it will automatically download any new files being offered for that course when they become available. It's like subscribing to a magazine, rather than going out to a store and looking for the new issue each time it comes out. It's easier if you subscribe to stay up to date.

Isn't this really for distance learning courses?

Recording lectures for use later certainly began in the 1970's for distance learning, but in the past 10 years at NJIT this trend has spread to face-to-face and hybrid courses.

Why would any an instructor put his course material in the "public" area of NJIT on iTunes U?

Exposure! Your audience becomes the world. Although we must take into account issues of copyright and intellectual property, iTunes U is a great way to bring attention to NJIT and your work. It's always the choice of each instructor as to whether you put up a full course, a sample lecture or promotional material for their department, program or research. We know that initiatives such at MIT's OpenCourseWare bring tremendous attention to faculty, research and a university.


In our year of podcasting, one of our early adopters at NJIT was Dr. Norbert Elliot. He posted several of his courses on our beta site (including World Lit I and World Lit II, now available in NJIT on iTunes U) and was receiving hundreds of downloads (and some email) from around the world. What a great way to get your name out there, and what a terrific way to get comments on your "American" take on world literature.

Don't people need an iPod or mp3 player to use this service?

Definitely not! One of the biggest misconceptions about podcasting is that it requires an iPod or special hardware. You can download and play all of our podcasts on your computer whether it is a PC or Macintosh by using iTunes. If you do want to move those files to an iPod or other mobile device, that's an option. Audio files are in the mp3 format and play on many devices. Video files are MPEG-4 or .mov files. iTunes also supports the .m4a file format which is often called an "enhanced podcast." These are audio files with synchronized graphics. At NJIT, many faculty will use this format to create slide/image presentations with narration.

Is there any cost to use NJIT on iTunes U?

No. People are used to seeing the "iTunes Music Store" and although our files are located in an area of iTunes known as the "iTunes Store", all NJIT materials are free to use. If a user decides to purchase music or video through the iTunes store, you are entering into an agreement with Apple, Inc. NJIT does not pay to use iTunes U, nor does it receive any compensation from Apple, Inc.

Please visit NJIT on iTunes U and let us know about your experience.

iTunes is a trademark of Apple Computer, Inc., registered in the U.S. and other countries.


The author does not allow comments to this entry